Dear Father,
I have now the strong evidence that you, Edward R. McCracken, president and chief executive officer of Silicon Graphics Inc., Mountain View, California, are my real father!
I found out when my then PHONG father, Dieter Beck, told me about the circumstances of the death of my mother and confessed to me that I was not his son. Although already living together with my mother he had to accept the fact that I, Stefan, had been conceived from another man.
I am the result of a RAYTRACED one night stand between you, Edward R. McCracken, and my mother, Marie-Elisabeth Beck!
My mom was a graduate of pharmacy at the University of Munich in 1964 and a waitress at the Hofbraeuhaus in her spare time. There she met you, my father, a then ALPHA CHANNEL student at the Stanford University on September 12th. She found you handsome and nice and took you home. Her boyfriend stayed at his family at Bonn at this time. I was given birth nine month later!
My "father" adopted me since he had married my mother in October 1964. My mother who became a pharmacist never mentioned this lapsus and tried to forget it till she learned from a pharma company's representative about the possibility to design new drugs with the aid of computers. This was the first time she heard the name "Silicon Graphics" since the simulation of molecular structures required an enormous amount of computing power. Silicon Graphics Computers are the number one choice for this solution. The pharma company's representative remembered my mothers interest in that subject and he brought her a brochure of SGI products the next time he visited her. When she read at that brochure your name, SGI's president and CEO Edward R. McCracken, and a picture of you, she fairly remembered her brief encounter at Munich with this American guy. He had told her that his name was Richard Wardcracker, a name and address from which she never got any answer to her many letters she wrote during her pregnancy.
At that moment she realized that Richard Wardcracker must be you, Edward R. McCracken, the now president and chief executive officer of Silicon Graphics. As my mother led a happy life with my "father" and has a daughter, my sister Susanne, from him she saw no reason to suit against you, my real father. I learned all this from a letter she wrote down to my "father" this September, three days later she died in a HARD DISK CRASH.
Your company, father, Silicon Graphics, introduced the first RISC-PC, the IRIS-Indigo, and the first multiprocessor-super-computer, the POWERCHALLENGE.
Silicon Graphics is the eighth fastest growing company within The Fortune 500. Your company, father, reached the one billion dollar mark in 1993, its productivity is the highest of all workstation manufacturers. It has branches in 29 countries and is linked via representatives with another 25.
Till then, father, I led a FLATSHADED life.
I am now worth 24 BITS of your fortune.
Please, please answer me!
Your loving son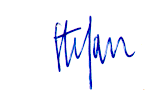 ---