NEW PHOTOGRAPHY 12

Richard Billingham, Thomas Demand, Osamu Kanemura,

Sophie Ristelhueber, Georgina Starr, Wolfgang Tillmans

The Museum of Modern Art

Oct. 24,1996 - Febr. 4, 1997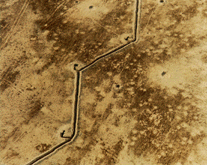 Sophie Ristelhueber. Fait (Fact).1992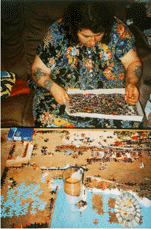 Roger Billingham. Untitled. 1995


The twelfth exhibition of its annual New Photography series isn't much of a surprise. Most of the works have been shown recently in New York galleries, or in shows around the world, or have been applauded with appearances in newly published books. More or less the MOMA adds a splash of whipped cream to the vitas of these young photographers.
It seems that even in the case of a series devoted to important contemporary photographic work the main orientation of the MOMA still consists in preservation, conservation and collecting. The Museum is less focused on the idea of being an ignition spark for the production of work. While, the show does offers a possibility on reflecting what these contemporary photographers are doing. It is not so different from what they have done before--or what has been done since the first moments when light moved into the lens and blackness. They are taking pictures from wherever light is reflected--which is more or less what we used to call reality. None of them are interested in experimental work with materials, time, or their eqipment. And they are even less interested in the growing possibilities of digitized images.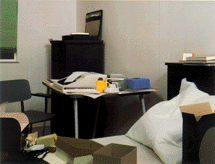 >

Thomas Demand. Zimmer (Room), 1996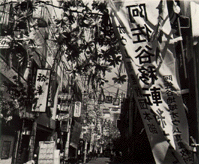 Osamu Kanemura, Untitled #13. 1995

The show works only as an intelligent confrontation of images: Sophie Ristelhueber's aerial shots of the scars, wounds and sores in the desert sand of Kuwait are opposed to Osamu Kanemura's black and white photographs, he has made delivering newspapers in Tokyo; Thomas Demand's deserted settings of scenes of mostly notorious events are confronted by "filled with life photographs" of Richard Billingham; While the over all wall layout of Georgina Starr's "The Seven Sorrows Collection" is conplementary to Wolfgang Tillmans compilation of multiple readable photostories.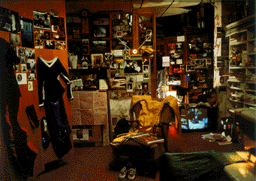 Georgina Starr, The Nine Collections of the Seventh Museum. 1994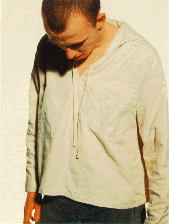 Wolfgang Tillmans, Adam, head down. 1991
dear rainald, I found this review about the moma show. Send me your telephone number one day I'd like to keep contact. (I m in Berlin at the moment:0302834786, Kunstwerke)