From its very inception this exhibition conceived itself as an electronic attempt to polemically challenge current curatorial conventions. Not only are there five works and one (documented) performance by ten Ontario-based artists in the physical exhibition space, but they also extend onto the World Wide Web.
The idea for Disembodied Mind stems from a 1994 curatorial panel on high technology, which led in 1995 to open invitations to electronic artists engaging the theme of technology in their work to propose a project responding to the show's title. Jack Butler, the "moderator" (de facto curator) and a participating artist, selected those artists' proposals that were then realised for the exhibition.
Earl Miller, the "coordinator", seeks a new model of critical collaboration: the essayist must privilege the artist's original intentions; interpret each work against the whole exhibition and not merely in isolation; and allow for the writing to continue, here, on the website past the duration of the physical exhibition, thereby recursively incorporating comments by the artists on the essayist's work. Miller's sole case study here is Butler's Fate Maps for the New Brain, an animated video projected onto frosted glass of the wave that marks the initial development of the brain. This piece was commissioned by a team of biophysicists with a pedagogical aim.
Besides the above experiment remains the rest of the show, which is sadly given no critical attention. David Clark's ambitious GaGe, an in-progress interactive cd-rom installation, takes its title from the two chemical elements gallium and germanium respectively; and from those elements and their discoveries' historical contexts the piece derives. Clark meditates on the ambivalent relationship between modern science and society with images from the Franco-Prussian War on.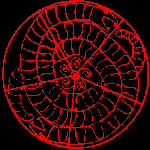 David Rokeby's in-progress interactive computer piece The Giver of Names randomly culls together excerpts from all his writings on art and allows the "interactor" to type in some text herself, which the computer then rasps grudgingly aloud. Such textual play is not new in concept, but here the programming proves a feat. We'll have to wait to see how this segment fits in with the several that will constitute Giver.
The Continuous Present performance group (Tim Dallett, Ben Hong, Loris Ognibene, and Diptee Rahman) attempts a digital Gertrude Stein aesthetic by trying to dissolve time into an eternal present with two telephone-connected fax loops (Ottawa-Toronto). The performers stick pre-cut text and writemessages directly on the loops. However conceptually exciting, this could never form a model for authentic, meaningful dialogue, as these artists seem to wish.
While Miller strives to offer an emancipated artist- curator-essayist relationship, his position should be elaborated in depth elsewhere, for several gaps in his arguments, apparent contradictions, and uninspected blindspots remain. How commensurable is a holistic interpretation with artist's intentions? Is it humanly possible for the essayist to engage critically equally with each artist? Only time will tell.