---
Author: G. H. Hovagimyan --- Date: 06/07/96 --- Copyright: ThingReviews NYC
---
Departure Lounge
The Clocktower
108 Leonard Street, NYC
Thru May 31

The Art Exchange Show
60 Broad Street, NYC
June 5-June8; June 12-June 15; 11am-7pm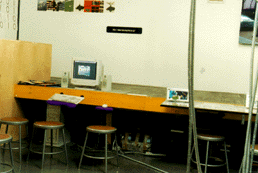 Departure Lounge at the Clocktower has the feel of web- surfing. The works are mixed up all over the walls, floors on a computer terminal on TV monitors with slick Cibachrome Sci-Fi fantasy Japanese tableaus, Porno screen shots and disembodied web addresses. The Thing has a special section dedicated to The Departure Lounge on its Web Site and this Spring/ Summer exhibition has been the site of live forums, discussions and relaxed cocktail chatathons. At one hosted by The Thing, Rainer Ganahl showed me his distributed web site addresses painted on the wall. He told me how the piece was formed by inviting artists and other oddities to send him Photos, faxes, transmissions whatever. In a funny way I can't describe this show it's more of a feeling and you have to see it to feel it. The presentation of networked communication bodes well for the future of art in this show. In an strange reversal the slicker and more desirable art objects are less interesting.
Photo: ThingWorld terminal at Departure Lounge, courtesy of PS1.


In a related occurrence, I attended the art exchange show at 60 Broad Street. This show is being hosted by real estate developers trying to use artists to revitalize the Wall street area.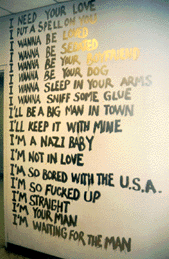 The environment is the empty former offices of Michael Millkens Junk Bond brokerage firm. This is eerily funny as a venue for art and presents spectacular views out the windows. Again the slicker art objects were at a disadvantage. However two exhibits were just super in their energy,wit, and presentation.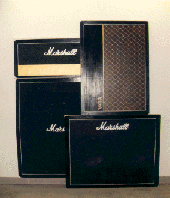 One was curated by Bill Arning called, " The Most Important Thing in The World" Oasis Vs. Blur and artists who ROCK. The show was all about rock as a cultural icon, with fandom dressing, videos, live performance etc. It's really raw and there is a lot of throwaway youthful petulance, but the direction is right. The other was a rave installation in the ruins of the cafeteria that was a group show with techno music. The works were various media slams by artists that if you weren't looking for you wouldn't notice. These two exhibitions jack-up the stakes and point to the next centuries' art future, A future so bright we'll have to wear shades.
Works by Douglas Wada and Steven Parrino. Photos by Sylvie Ball.
Email: ThingReviews
---
To post a response fill out the following form and click the "Submit" button. Or go back...
---
---
Scroll down to read messages.
---
Wolfgang Staehle -- wolfgang@thing.net
Responds:

And a picture of the rocking curator...