---
Author: Ricardo Dominguez --- Date: 08/21/96 --- Copyright: ThingReviews NYC
---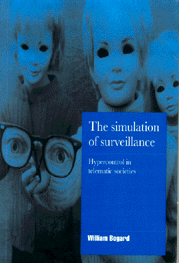 As we zoom in on our posthistorical moment we can finally exit the old Hegelian see-saw of the master/slave dialectic knowing that we have all become slaves without masters, hyperslaves of the reconfigured telematic eye--still, motionless,and marked by the stigmata of data as our imaginary guard. William Bogard's "social science fiction" creates a recombinant coding of Foucault's historical analysis of surveillance and Baudrillard's critique of simulation as a guide to our present state of technoculture in which surveillance "approaches something like an ecstatic form. . . surveillance without limits is exactly what simulation is all about. Simulation, that is, is a way of satisfying a wish to see everything, and to see it in advance, therefore both as something present (or anticipated) and already over (past)." We are/have become paradoxal partners with the hyperpanoptic imaginary of social simulation which is never just about simple surveillance, "but always (only) a simulation of surveillance, a fiction of surveillance . . . the simulation of discipline (control, order)." Bogard's strategies of re-mixing the process of objective fiction, hallucinogenic politics, and delusional programming allows our postcontempory situation to play itself out like a Quick Time video of our selves--as we fashion our own master "observation-machine" for our own hyperslavery.
Ricardo Dominguez
Email: ThingReviews
---
To post a response fill out the following form and click the "Submit" button. Or go back...
---
---
Scroll down to read messages.
---
--
Responds:

so what's new?
---
--
Responds:

Whatever...
---
Meler -- Meler@cad.upc.es
Responds:

Estoy revisando el libro para su posible publicación en castellano y sus comentarios han sido de mucho interés