Considering all the hoopdeela of the renovated galleries in Chelsea, where large beautiful spaces contain mostly boring art (a bit similar to fashion models - beautiful, but vacuous), it was an adventurous trek up to 40th Street and 8th Avenue, right across the street from the Port Authority bus terminal. When I hopped into the taxi, the driver asked what I might be doing over there, and I said, "meeting my drug dealer."
With its inaugural exhibition, "Art and the Crushing Force of Nature," the exhibition space "a cultural gem," shows promise in showing up-and-coming artists with ideas. Even the press release and the Village Voice blurb was seductive, "the third (artist) is a pervert" -- which one?
Was it a reference to the schizo-counter? "Show Me Where It Hurts / Kiss and Tell," by Aimee Simmons (collaborating with organizers, Jeff Macaluso and John Veena) was part psycho-analytic therapy counter and part kissing booth, where visitors could receive a kiss or advice depending upon which side you stood or sat (near the pink or black vinyl), something, besides the tiny foil kisses scattered on the counter.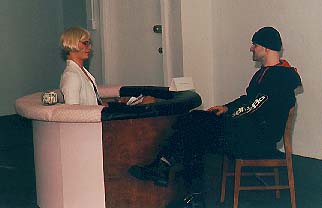 "Show Me Where It Hurts / Kiss and Tell," Aimee Simmons, 1997
(with Jeff Macaluso and John Veena)
The pervert could also refer to Canadian artist, Marc Streifling. On one wall hung a mural-sized collage of "erotic" comic book images (Japanese Manga) appropriated from the Internet. A problematic work, not only from a feminist perspective, but also formally from the all too simple use of the Modernist grid. Naughty, but "candy-coated" nice.
A more subtle approach to reproduction and biological impulses was a piece by visting Swedish artist, Henrik Hakansson, "True Love (Drosophila melanogaster/
Dionaea muscipula)." The work is succinctly described by the artist: "consists of two PET (recyclable) bottles connected to each other through a clear plastic hose. One bottle makes a rearing chamber for Fruitflies (Drosophila melangogaster) in some different genetic varieties. The other bottle houses a group of carnivorous plants, the Venus Flytrap (Dionaea muscipula). Together they form a system of life and death/death and life. The set up is structured to be flexible and light for easy install and moving."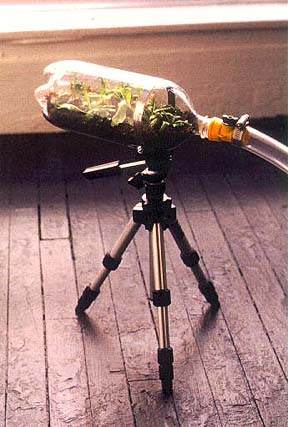 "True Love" Drosophila melanogaster/Dionaea muscipula)," 1997
(Henrik Hakansson)
A sweet, if not ironic title, but this self-contained eco-system is actually more perverse and cruel. Mostly, because it appears as a hermetic or "closed system" and there exists only a couple options; no chance for escape for the specially cultivated species.
The more "utopian" option, would be to render the eco-system as an "open system." This model would have another tube connected from some point (near the beginning, middle or end, depending upon the preferred narrative) leading out to the nearby window. Whereas, the current system provides as options: stay at home base (the rearing chamber) or journey the length of plastic to be seduced by the soft, velvety green pad of carnivores (Venus Fly Trap), that will eventually close and digest with its juices.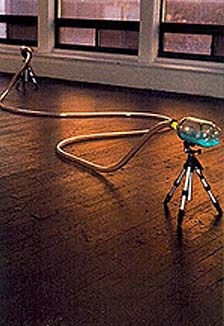 However, "True Love" is still nicely executed by the blue cultivation chamber and green growth at the opposite end. The aesthetics of recyclable bottles mounted upon tripods; the effect rendered through an economy of means for a "poetic" idea.
Kelly Hashimoto
khash@interport.net