Who can beat Jackie Chan, Van Damme, and any other Superstud in town--Michelle Yeoh--she could do it blindfolded and with a broken leg! In her recent film "Stuntwoman" she jumped 18 feet off of bridge and landed head first on pile of cardboard boxes. Torn ligaments and a fractured rib were not enough to stop her--she resumed filming! Arnold "The Terminator" never does his own stunts, he might get hurt--Michelle Yeoh does them all! Now you can catch up with what Oliver Stone ,Tarantino, and James Bond already know--Michelle Yeoh is the Queen of Action.
Make sure you catch "Project S","Wing Chun," and of course "Tai Chi Master" where you can catch her match the hyperfist style of the incredible Jet Li. Don't walk--leap to this series of double features and watch Michelle kick butt!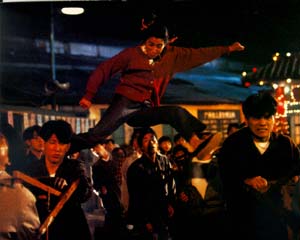 STUNTWOMAN-1996: HER LATEST FILM.
YES, MADAM-1985: HER FIRST MAJOR FILM.
ROYAL WARRIORS-1986: Michelle as "femme fatale."
MAGNIFICENT WARRIORS-1988.
TAI CHI MASTER-1993: WITH JET LI.
WING CHUN-1994.
HEROIC TRIO-1992: WITH MAGGIE CHEUNG AND ANITA MUI.
EXECUTIONERS-1993: SEQUEL TO HEROIC TRIO.
PROJECT S-1993.
SUPER COP-1992: WITH JACKIE CHAN.