---
Author: Diane Ludin --- Date: 4/4/97 --- Copyright: ThingReviews NYC
---
Echoes: Contemporary Art in the Age of Endless Conclusions
Edited by Francesco Bonami
A Book Review by
Diane Ludin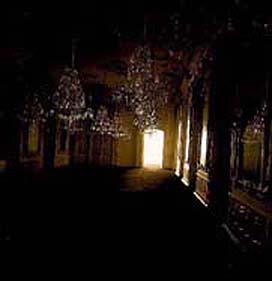 Felix Gonzalez-Torres and Rudolf Stingel.
View of installation. 1994.
"Echoes" defines the current state of art as evolving under hyperevents, which affect mass popular attention, and the multi-modes of social change that are the frame of our present state. The cover photo suggests the state of awareness I had when reading the essays. Thinking always of the many individuals who attempt to define art in the nineties as post-conceptual, post-performance, post-identidy politics, post-multicultural, post-colonial/imperial, post-economic apocalypse of the 80's artmarket, and all of the social/economic factors that compose our cultural context as self conscious cultural workers. All the essays in "Echoes" share a need to find a way out of the dead zone which art currently inhabits--they seek to point to works that are moving through the cultural gridlock of modernism's attention to an exclusive formalism in the visual arts and the post-modern End-ism of the recent past. Artists such as Karen Kilimnik who uses popular culture icons as elements for metaphorical situations that open a narrative/identity play of the shared dialogue with the post-media viewer's "interactive" status of 90's culture.


Karen Kilimnik
The Black Plague. 1995

The oscillation between the photographs of Jay P. Wolke in "Post Tornado III" and Olafur Eliasson's "Untitled (Iceland Series)" point to the many modes of cultural works that are attempting to build new forms. One example being construction in a part of the world which is an environmental margin, the constructing of life and society with the hope that bright colors and children at play signify. And that of natural disasters to which our relationship of control has changed over the years. The end of the millenium acts as a period in what would have otherwise been an unending sentence. To invent and make art between panic and utopia--the echoes of our present condition.


Jay P. Wolke. Post Tornado,lll. 1991
Olafur Eliasson. Untitled (Iceland Series). 1995.

This anthology brings together different systems of interpretation that have impacted our cultural landscape and attempts to compile artwork and cultural mythology as food to be eaten for our end of the millenium hunger. It is a text that should be digested to energize us for the beginning of the next century. Carefully compiled and attached to art that is at the forefront of the current cultural scene. It allows one to remain the blurred post-media-subject that is always looking for ways to link all that we know and experience together in a society that thrives on hype and information overload. It is also successful in comforting this highly anxious condition.

Diane Ludin
Email: ThingReviews
---
To post a response fill out the following form and click the "Submit" button. Or go back...
---
---
Scroll down to read messages.
---
Andreas Gedin -- a.gedin@stockholm.mail.telia.com
Responds:

Dear Francesco Bonami, We met briefly in Münster (introduced by Daniel Birnbaum), just by Haackes impressing work. Anyway, I asked you to send a postcard on the subject DocumentaX, to the magazine M, whera I am the editor. M is the magazine of Moderna Museet in stockholm. It is not to late to participate, and I would appericiate if you would. Please e-mail or fax +46-8-644 70 24, some comments, postcard size, best wishes, Andreas Gedin