LIVING IN "CELEBRATION"
Jordan Crandall, March 1996
Can't get enough of Disney World? Well now you can just move right in.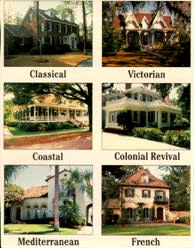 Homes in Celebration, Florida, will consist of various styles, including Classical, Victorian, Colonial Revival, Coastal, Mediterranean, and French. These styles will be available in four basic types: Estate, Village, Cottage, and Townhouse.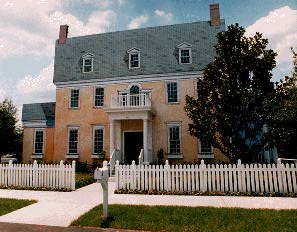 Designed in the Celebration Classical style, this 2 1/2 story house is based on the gracious houses of the Old South. Typically, these homes are harmonious, symmetrical, and balanced. They feature columned porches, pedimented facades, and vertically proportioned windows.

Floor plans and interiors will reflect today's lifestyles and tastes. Homes, most with welcoming front porches, will be oriented toward activity in the front yard. Most residences will have rear access to the garage by means of a service alley.
And so it reads in the promotional material sent by The Celebration Company, a subsidiary of Walt Disney World, who is building a 4,900 acre town from scratch, next to Disney World itself. Oddly, there is very little mention of what is inside these wondrous homes. Examining the press photograph reproduced above, one notices that the home turns out to be only about 6 inches thick, and so there is evidently not much. Heavily featured and fetishized are the facades and front porches, with paths coming and going from them. Prominently featured also, but to a much lesser extent, are the "rear access" channels provided by the garages. The homes appear to basically consist of front porches, garages, and a thin layer of house propped up in between--a surface of translation between front and back, coming and going. What exists, then, is basically a heavily sexualized front port/porch and rear port, the lavish channels going in and out of them, and the constructed neighborhood necessary to provide the conditions for flow.
Desperately searching for any information as to what might lurk inside these homes, one can find, on page 3 of the Celebration Chronicle (vol. 1 no. 1), the town's official newspaper, mention of living spaces toward the front and family rooms toward the rear. But these rooms basically exist only to front the channels.
To add beauty and encourage a sense of community, most houses will have ample living space towards the front of the house. Big family rooms toward the rear of homes will lead to backyards, driveways, and landscaped alleys. According to David Pace, manager of residential development, moving the garage to the rear of the house gives the house facade a larger, more dramatic and welcoming appearance, just like the houses found in many traditional towns.

All lots have approximately the same depth, but widths change according to house type. Each house will face a similar type house or lot size across the street. For example, townhouses will typically face townhouses and estate homes will typically face other estate homes. Many will face parks, wetlands, or fairways. Along the alley, homes will adjoin other house types. The backyard of a cottage lot, for instance, may face an alley that abuts the backyard of a village lot.
Not only do these surfaces front the channels, then, but they also reflect. What emerges is a play of reflective surfaces propped up and pieced together in a variety of combinations, halls of mirrors that enforce classifications, all of which have no depth. Various channels run in and out of them to institute the appearance of passage. Indeed, enormous attention is paid to the town plan; the retail and business district with shops, restaurants, a town hall, a post office, and a cinema; the 109-acre Office Park; the Celebration School with grades K through 12; the recreational facilities which include an 18-hole golf course, a 16,500 square-foot clubhouse, miles of nature trails, and a downtown lake; the comprehensive health care facilities; both the lavishly landscaped streets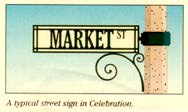 and the planned fiber optic network of advanced, broadband telecommunications that will link all of these facilities to each other and to the world outside. Emphasizing "the joy of neighborly socializing, whether it's on the golf course, in the neighborhood park, at a downtown cafe, on the miles of walking trails that weave through the community or from porch to porch," Celebration is a "hopscotch-and-tag neighborhood to be viewed from the front porch swings", a town with no interiors, a town built wholly on facade and flow.
Looking further outward, lavish attention is also paid to the 4,700 acre "protected greenbelt"--i.e., buffer zone--that will completely encircle the town like a donut. "Those who live in Celebration will enjoy modern conveniences cradled by the inherent beauty of nature," says the Celebration Chronicle. In other words, disciplined (hairsprayed) nature provides the scenic backdrops, lining the streets and channels, cradling the town with its "inherent beauty," while untamed nature is pushed outward into its perimeter, encircling the town in an enormous moat, in order that the town can exist naturally "in nature." What is being "protected" is not nature's wildlife but, more importantly, the town and its citizens, who are offered protection from the harsh realities outside and beyond, sealed away ("cradled") in a kind of storm shelter against "wildness." Nature is pressed into service as a normative mechanism that traffics as a hall of landscape paintings, a highly aestheticized security system that allows safe and regulated passage between the porches.
Still further outward, just to the south, lies The Disney Wilderness Preserve, with 8,500 acres of "wetlands, uplands and myriad wildlife, including endangered species" (interiors?). Just to the north lies the Magic Kingdom.
IT'S WORTH SPENDING A NIGHT THERE
According to Don Killoren, vice president of Celebration community development, "Developers have often preserved pockets of land within communities. At Celebration, we're doing just the opposite."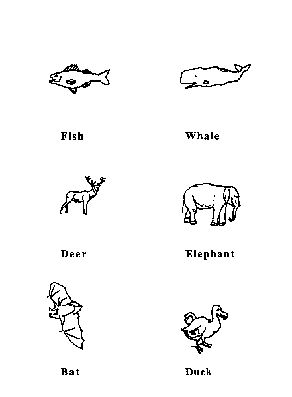 What we have then is something like this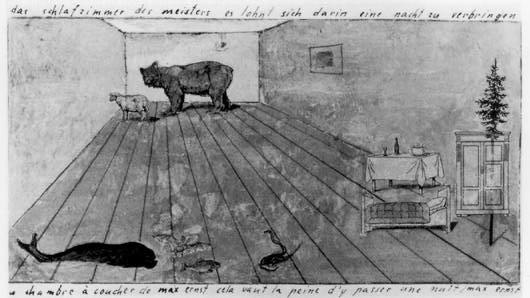 As a headline in the Celebration Chronicle suggests, it's "A Place Walt Would Call Home."
Comments? Leave a message on the WWWBoard!